Techsploration Ontario: Techsploration Career Quest Virtual Conference
March 8
Location: Online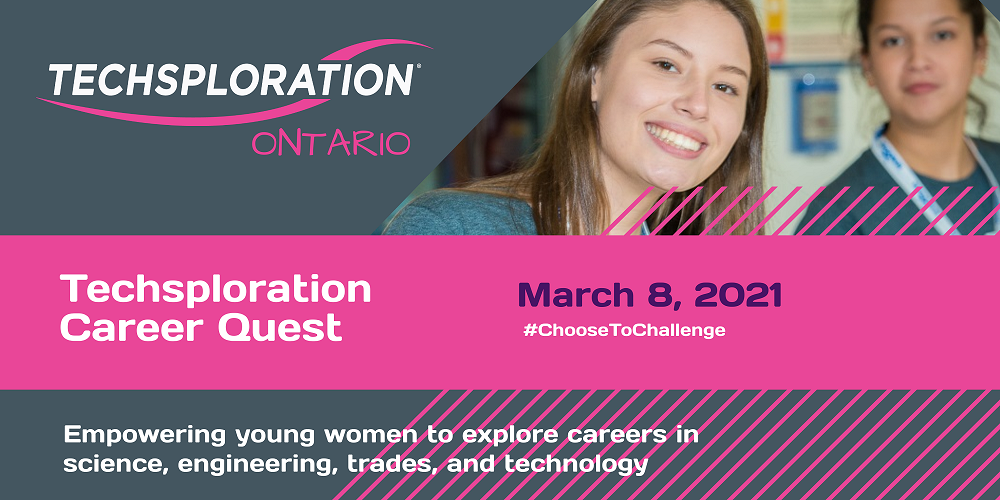 Young women in grades 9 through 12 are invited to the Techsploration Career Quest to explore careers in science, engineering, trades, and technology during this 1-day virtual conference that includes inspiring and motivating speakers, conversations with professional women and entrepreneurs in skilled trades and STEM careers (Role Models), and dynamic hands-on workshops. 
Techsplorers (program participants) will:  
gain awareness about the critical role of work in their 

lives

 

understand the significance of high school math and science for their future 

careers

 

be introduced to careers they may never have 

considered

 

 

enhance their skills in the following areas: communication, leadership, and teamwork.

 
TECHSPLORATION PITCH COMPETITION 
Techsplorers will work in teams of 6-8 students to create a short pitch that they will share at the end of the day, highlighting the ideas they have that answer the challenge question:  
How can we encourage more young women to explore careers in skilled trades and STEM?  
Celebrate International Women's Day with Techsploration by inspiring the next generation of female leaders in skilled trades and STEM! This conference provides experiential learning and reach ahead opportunities linked to science, math, technology, careers, business, cooperative education, and Specialist High Skills Major (SHSM).  
March 8th from 9 AM to 3 PM
Hosted in the Unearth Education online learning platform. 
Participants will be able to login to the event to access live sessions and will require a computer/tablet with microphone to participate. 
Maximum enrollment for the event is set at 130 participants. Don't miss out — register today! 
TEACHERS REGISTER HERE!             PARENTS REGISTER HERE!
This initiative is funded (in part) by Employment and Social Development Canada.

Techsploration also gratefully acknowledges the support of its Ontario Presenting Partners:


Add to Calendar
March 8
Canada/Atlantic
Techsploration Ontario: Techsploration Career Quest Virtual Conference