Insight-2-Inspire: Mentorship Speaker Series -- Session 1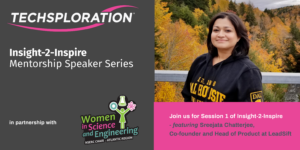 Attention: Online Alumnae Mentorship Program Participants
Techsploration is pleased to launch 'Insight-2-Inspire', a new speaker series in partnership with WISEatlantic! Join us for 30-minutes of insight into career advancement strategies and advice on maneuvering career paths in STEM and skilled trades fields from inspiring leaders from across the country. Each speaker will also provide 15 minutes for Q and A.
This new initiative aims to provide participants with actionable information for career development and to enhance what they have gained to date (either as a mentee or mentor) from the Online Alumnae Mentorship Program.
Join us for Session 1 of our new Insight-2-Inspire Mentorship Series, featuring Sreejata Chatterjee!
Date: October 29, 2020
Time: 5:30 P.M.
Register here.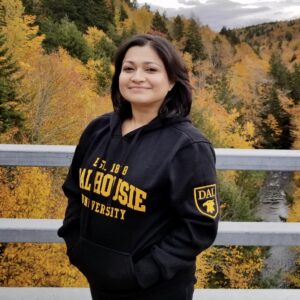 Sreejata is the co-founder and Head of Product at LeadSift – a marketing technology company. She's responsible for the design, architecture & shipping of LeadSift products, figuring out how to deliver maximum value to the customers, general operations of the business and also picking up snacks for the office. Outside of work, she's a guest lecturer at Saint Mary's University and for Ladies Learning Code, co-hosts a Data Science meetup group and runs a small-scale non-profit company but you're most likely to find her chilling over wine and food after a stroll that she'll insist is a hike!