Meet Therese Owusu, Product Designer at Shopify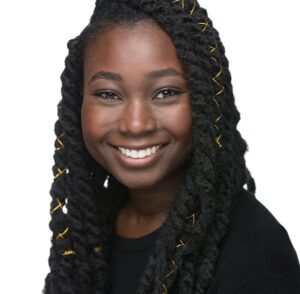 The Creative and Technical Connection
What was high school like for you? Were there any experiences there that led you to the career you've chosen?
I actually went to two different high schools because I moved when I was in 12th grade. Despite these moves, a constant for me was my love of English. I always enjoyed reading, researching, and analyzing texts. I had the opportunity to take a creative writing class and for my final assignment, I submitted a songbook with different illustrations. Through this experience, I learned that I could creatively combine my love of writing and analysis with other passions such as music and art. Reflecting on this, I believe this experience helped motivate me to pursue a career that incorporated my interest in media, research, and design.
What was a pivotal point in your career?
A pivotal point in my career is when I decided to leave my Coordinator role at the University of Toronto in order to pursue a career in user research at a non-profit. Though I had previously studied User Experience (UX), I had not worked in the field directly. Leaving my role at the university would provide me the opportunity to gain more experience in the field of UX design and research. However, after spending two years in the Coordinator role, I was nervous to branch out into a new space. I'm glad I took that leap of faith because that role as a user researcher allowed me to gain more hands-on experience and provided me with more opportunities to work in UX design!
Did you have a mentor during your career or education that had a significant impact?
While working as a user researcher at a non-profit organization, the product and startup lead was a great mentor to me. As a designer himself, he provided me with wonderful feedback on designs, support when making career decisions, and opportunities to connect with other designers and individuals working in tech. His mentorship and sponsorship are a key reason why I'm in the career and role I'm in today.
Do you have any advice you could share with young women entering careers in STEM?
My advice for young women entering careers in STEM is to be a constant learner. There may be opportunities that arise where you feel you don't 100% meet the criteria or have never done before. From my experience, many people, including myself, have felt that way. So, don't self-select yourself out. If you're willing to put in the work to learn, you'd be surprised how much you're able to accomplish. A growth mindset in combination with your skills and experiences can take you very far!
If you could highlight one thing about your job; your favourite aspect, what would it be?
I'm naturally a curious person who likes to ask a lot of questions. I'm lucky to be in a role where this trait is key to being successful. My favourite aspect of my job is being able to speak with merchants or customers directly through interviews, user testing, or co-creation workshops. I love learning about their challenges/experiences and working with them to create solutions.
Tell us about your work with ElleHacks. What do you take away from being a mentor?
As an ElleHacks mentor, I was able to use my UX design and research knowledge to help mentor groups of students as they worked on their challenges. It was incredible to see the clear visions that these teams had for their projects. I helped provide guidance by asking clarifying questions, providing design tips, or offering areas where they could think about tweaking their design. As a mentor, my key takeaways were that there is an incredible generation of women and non-binary students excited to enter different STEM fields. The enthusiasm from these students to use their knowledge and technology to help solve tough world problems, from environmental sustainability to mental health, was inspiring to see.
Why do you feel it's important to design inclusive learning experiences?
We're in an age where new technologies are changing our ways of learning. As new opportunities and ways of learning emerge, I feel it's important that people of different backgrounds not only have access to these new learning experiences but feel welcomed and that they can thrive in them as well. Coming from a group that is often underrepresented in technology, I've personally experienced how it feels to either not have access to these tools or not feel welcomed in some of these spaces. I'd like to make sure future generations do not experience this. That's why I feel it's important to design inclusive learning experiences in these spaces so that there are more inclusive and equitable opportunities for everyone to leverage new technologies and learn.