Precious Kolawole: The Future is Bright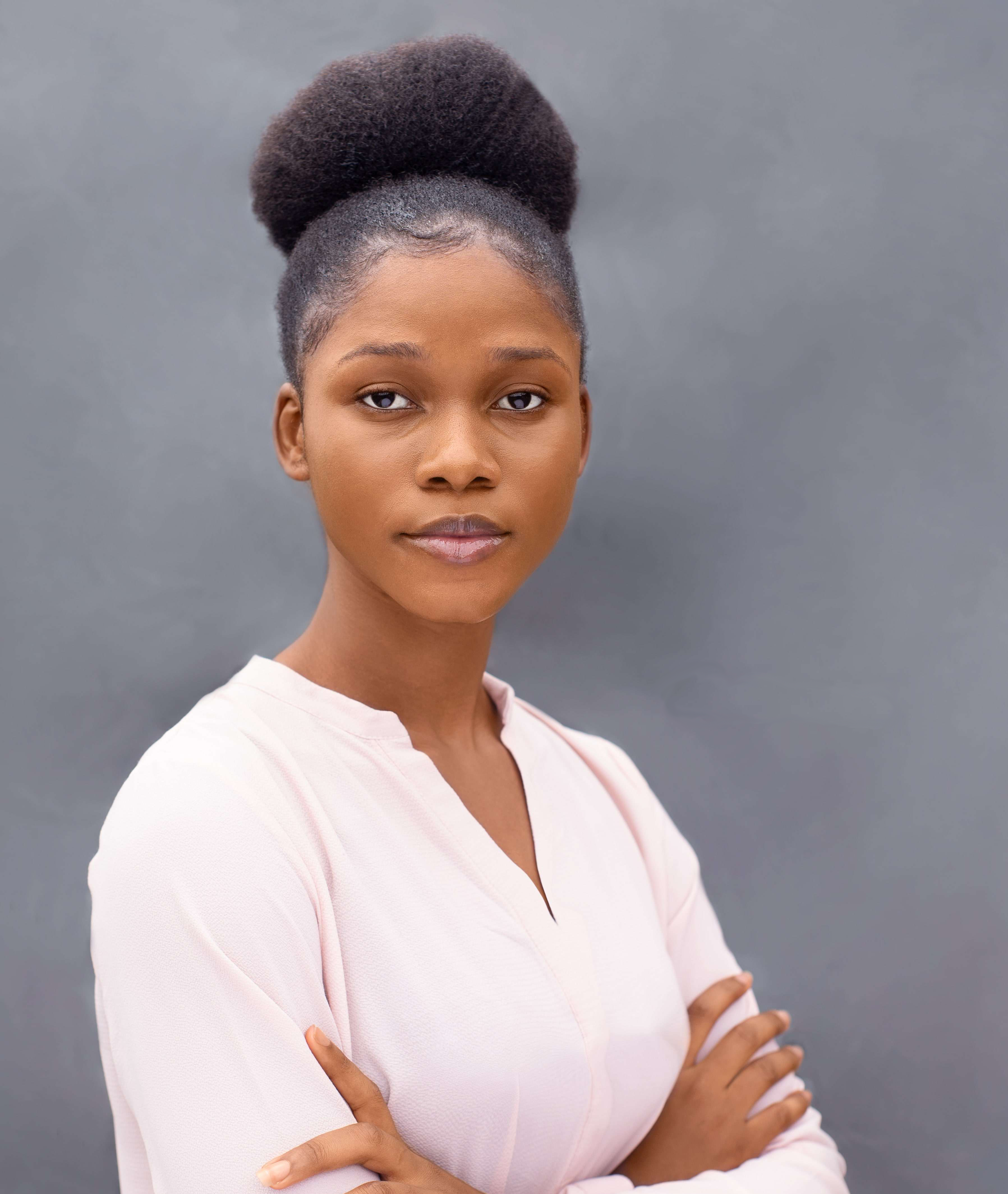 Precious Kolawole grew up in Nigeria and moved to Canada to pursue further education. She knew she wanted to help others and her interest was primarily in healthcare. While she was waiting to attend university, her brother introduced her to technology and sparked her interest in Artificial Intelligence (AI). She realized there was a great opportunity to help others by combining AI with healthcare, and that became her new passion.
When Precious heard about the Shopify Dev Degree program, she saw an opportunity to complete her computer science degree, while working with Shopify.
Precious still hopes to study medicine in the future, and combined with her knowledge of technology, she hopes to inspire other young women by showing them if she can do it, they can too.
What first got you interested in working in the technology sector?
Unlike many other people, I wasn't exposed to technology while growing up, which was influenced by my family's inability to afford electronics and gadgets. Studying medicine had been my childhood dream, and I was subsequently admitted to study physiotherapy at a Nigerian university three years after high school. However, my brother introduced me to technology during the three-year waiting period.
My interest in working in the technology sector began taking a definite shape when I saw the possibilities of combining medicine with technology, and I realized the extent to which healthcare could be made more accessible via the applications of artificial intelligence. Coupled with that, learning how to code is free, but learning comfortably is expensive. I used my Android phone to run my code for over six months due to a lack of computing devices. I knew I needed to use my curated skills to make money to foster my continued learning and development.
Moving from Nigeria to Canada, what did you find were your biggest challenges?
The lengthiest travel I had in Nigeria lasted three hours. Being on a 26-hour flight with my life packed into a few suitcases was a bit scary, and seeing my mom and sister depart the airport while I boarded brought a few tears to my eyes because I was moving to face the unknown without the security of those who usually help me. However, the transition was smoother than I had expected.
It is not about the food, weather, diverse languages, or cultural differences. I received support from almost everyone I met upon arrival, and they all helped fill those gaps. I quieted down the loud voices of homesickness by finding new interests – joining new religious and tech groups and getting involved in their activities.
Regardless, I suffered an identity crisis; I lost my sense of self, which was my biggest challenge. I am naturally the type who is self-confident, fosters collaboration, and engages and leads in various capacities. Still, I slowly became much more dependent on other people to navigate around the information I couldn't get from my Google search. My confidence level dropped as I needed to relearn most things. I spent time trying to understand how those things work because they are different from what I was exposed to growing up.
What are the differences in your post-secondary education experiences between Nigeria and Canada?
In my three semesters at my Nigerian post-secondary school, I was mandated to take a minimum of 10 to 11 courses per semester. Every international student from Nigeria must have been as shocked, as I was to see that Canadian post-secondary institutions restrict you from taking more than five courses each term. Now, coupled with my Dev Degree program, I only take between three to four courses each term. That was a big surprise, but I'd say the workloads are on the same level.
In Nigeria, lecturers and professors are strict; understanding course materials and being hardworking do not guarantee students' success. In contrast, Canadian professors are easily approachable. Following their instructions and being intelligent and hardworking means success. In addition, the Canadian education system is well-digitized with better infrastructure and resources.
Are there many women working in the technology sector in Nigeria?
Since around 2015, there has been an exponential rise in the involvement of Nigerian women in the tech ecosystem. Not only are Nigerian women participating and working in tech, but they are making significant contributions to the industry, taking up leadership positions, and getting recognized as start-up founders, while serving as role models and creating several development opportunities for younger Nigerian females.
I am a product of many of these initiatives built to support and teach younger females by Nigerian women working in tech. Efforts are still being made daily to drive diversity continuously in the Nigerian technology sector. However, the fact that the technology sector is still largely male-dominated, and women are still underrepresented, is undeniable.
What interests you regarding the intersectionality between AI and healthcare?
Suppose I eventually get into medical school again, as I plan to. In that case, I intend to study general surgery and not confine myself to just an aspect of medicine like physiotherapy, neurology, or dermatology. I have briefly explored each of the mentioned options in one way or another in my life, and I have discovered that I certainly do not want to focus on just one aspect.
My home country still lacks adequate and accessible medical care, and it hurts to see many people lacking good medical help. I do not want to predict the next steps after my computer science degree (it has been a learning experience since the start of my degree, and my interests keep getting bigger and more seasoned daily – I might end up diving into robotics tomorrow).
However, I intend to build a health-tech company where I channel my energies towards solving African health problems while increasing healthcare access globally by building cutting-edge artificial intelligence technologies that improve the quality and affordability of highly specialized care.
What inspired you to join Shopify's Dev Degree program?
When I zeroed my mind in on my physiotherapy degree, I started to look for opportunities, but none were forthcoming. I received countless rejections, and the failings piled upon each other. My mental state was in shambles, and at some point, I had lost most of my swashbuckling spirit and was trying to avoid any other endeavour, lest I cement that "I am a failure" thought in my psyche.
At this time, a friend introduced me to the Dev Degree program. The program's perks and benefits were too good to be real, and I found them unbelievable. I tried to see if I could get a chance because it checked all my boxes in that I am not the type who is cozy enough to focus on education without building or working alongside it.
Why do you think it's important to be a mentor? What do you find rewarding about it?
Mentorship is an opportunity to give back to the community and contribute my pieces to help the next generation of passionate young folks develop the skills and knowledge they need to succeed. It is crucial because people typically get inspired to do something when others like them do it. They find it easier to imagine themselves in those roles and are likelier to push forward and speak for themselves.
What I find most rewarding is the positive impact that it can have on the mentee's personal and professional growth. Seeing a mentee reflect on the values I have passed to them, in turn, gives me a sense of personal satisfaction.
Why do you think it's important to be involved with organizations like Techsploration?
Techsploration is an organization that aims to inspire young girls to consider careers in STEM. This is crucial for the future of technology and aims to equalize the wide gender disparity in tech.
Having personally benefited so much from organizations with similar structures like Techsploration in my early career, it is essential to give back somehow, contribute to this vital mission, and positively impact society. Additionally, being involved with such an elite organization promises to provide valuable networking opportunities and foster personal growth.
What kind of growth would you like to see regarding women and non-binary individuals working in STEM?
It is essential to increase the representation of women working in STEM to create a more diverse and inclusive workforce. Work arrangements in the industry should be more flexible as many women face challenges balancing their personal and professional lives. Finally, I envision a future where women are seen as equally smart as their male counterparts and can uniquely follow their paths, different from what society designed for them.