Reflections for Retirement – Perspective, My Friend
Arylene's preferred title (particularly for those who know her well): 'See ya later!'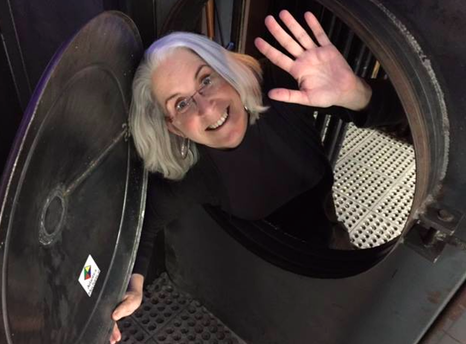 After a dedicated career with Techsploration spanning nearly two decades, the award-winning, non-profit's Executive Director, Arylene Reycraft, announces her retirement today. To celebrate her significant contributions to Techsploration, we asked Arylene to share some of her career highlights with us and our community.
What was initially set to be a three-month gig ended up being a lengthy and impactful stay with Techsploration, which Arylene has led for the past three years. Arylene first began her role with Techsploration recruiting volunteers to serve as role models for the program, many of whom still volunteer to this day.
"In the beginning I was just doing my job to recruit women to act as role models for Techsploration. However, as I learned more about their stories and challenges, I became angry and hurt for them and the barriers they had to face. Those experiences early-on really made me reflect on the challenges I had encountered in my own life and the realities my two daughters would meet while on their respective career paths," says Reycraft.
It was those experiences that fostered Reycraft's passion for Techsploration and the belief that anyone should have the opportunity to pursue whatever career they choose or are interested in, without it being defined as pioneering or radical. Each role model Arylene has met throughout her career has had a cumulative impact on her: one woman's story would lead to the next, and that would lead to the next, and so on. Techsploration's vast and incredibly talented pool of role models can largely be attributed to Arylene and the meaningful connections she created throughout her career.
When the former Executive Director, Tricia Robertson, stepped down three years ago, Arylene was asked to take on the role. While at the helm, Arylene grew Techsploration's team and increased the organization's scope with new schools in Nova Scotia and the launch of the National Expansion Pilot this past year. Another significant achievement she is particularly proud of is in how she helped refine the way the organization includes men in its programming, recognizing that it is important for young women to feel supported by male allies who also champion their futures.
"I'm a little astounded when I look back at the things my team and I have accomplished while we've worked together. I wouldn't have believed it if someone had told me the Prime Minister's office would call and request a meeting, that an incredible leader like the Honourable Bernadette Jordan would be an advocate for our program, or that we'd be delivering programming in Ontario. These achievements still amaze me!"
Arylene's impact on Techsploration is undeniable and, according to Arylene, the organization has also shaped her in return. "It has given me confidence in my ability to trust my decisions. I met a mentor of mine, Ruth Goldblum, through Techsploration. She taught me to trust my instinct – all women should have a Ruth in their lives."
In her retirement, Arylene looks forward to spending time with her husband, Kirby Reycraft, (who is reputed to be married to 'Techsploration') and daughters, and watching her grandchildren become young women and men who know the power in possibilities (see what we did there).